TN1 Combined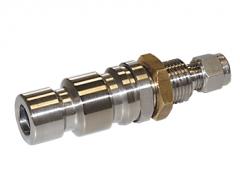 Combined Receptacle for the NGV1 standard and ball locking nozzles to the Italian standard
In cooperation with the Adam Opel AG Germany, WEH GmbH have now developped a receptacle which provides a simple solution to the problem of different receptacle standards in Europe.
The patented combined TN1 receptacle is suitable for nozzles to NGV1 standard as well as for ball locking nozzles to the Italian standard. An adaptor nozzle is no longer needed.
The WEH-Receptacle satisfies all operational requirements, such as the reduction of chatter during refuelling. A 50 micron particle filter is integrated thus protecting the vehicle high pressure system from dirt ingress.
Downtime is reduced to a minimum by the extremely low maintenance requirement. The TN1 is equipped with an integrated check valve.
There is no high frequency noise during refuelling with the TN1 receptacle when used with WEH nozzles!
Features:
Reduces chatter during refuelling
Compatible with all nozzles designed for NGV1 and Italian standard
Integrated particle filter (50 micron)
Integrated non-contact high-flow check valve
Sealing-friendly design

Our product categories
Our service