Carbon Dioxide Recovery (Brewery)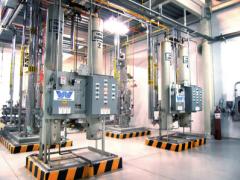 The History of recovering CO2 from the fermentation process dates back to 1912, the year Wittemann pioneered the closed fermentation process. Although the production of alcohol was prohibited in the US shortly thereafter, the process revolutionized the brewing industry a decade later when the prohibition was repealed. Since then, Wittemann has earned the respect of brewers and distillers around the world – who now rely on Wittemann to design, build, install and maintain their own in-house CO2 recovery systems. Wittemann CO2 Recovery Systems are designed to meet the modern day needs of brewers and distillers. Flexibility, performance, efficiency, the lowest possible operating costs and plant integration are all keys to ensuring a successful CO2 installation.
Sophisticated analysis tools, developed by Wittemann engineers, analyze fermentation schedules and brewing data and calculate CO2 availability for optimal plant sizing. Systems can be designed to recover CO2 from sources with an inlet gas purity as low as 80%, producing final product purities as high as 99.998% and with turn-downs as high as 90%.
Microbrewers to large scale brewers and distillers can benefit from Wittemann's proven process scheme for purifying, compressing and liquefying CO2. Recent advancements in these processes maximize efficiency and product purity - once again proving Wittemann's role as the leader in CO2 recovery technology. CO2 produced from a Wittemann recovery system ensures your product is free of objectionable tastes and odors and our liquid CO2 stripping systems maximize product shelf life and flavor stability by reducing oxygen levels to as low as 1ppm by volume.
Key System Features
System can be designed to recover CO2 from sources with as low as 80% purity.
Yields CO2 with a purity as high as 99.998% when incorporating the liquid CO2 purification system.
Completely automatic (PLC based) provides for minimal operator intervention and capacity control.
System design, material selection (liberal use of Stainless Steel) and manufacturing technique provide for easy and reduced maintenance requirements and cost.
High CO

2

recovery and efficiency yields more CO2 product which can then be utilized to enhance product quality or may be sold for increased revenues.

Our product categories
Our service